Episode 1 – 'Why I do what I do'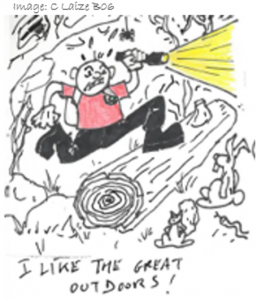 'Why do I do what I do?' sounds like a really simple question to answer doesn't it?  Well believe me I have been asking myself this question for the last few months and I am only now at the point of understanding my real reasons for doing what I do with Bucks Search & Rescue. This piece won't directly answer that question, but it will hopefully trigger thoughts and considerations in people, and that might lead to a better understanding of what drives a Search Tech to do what they do.
When I first joined the team, my response to that question was to tell people I was trying to fill the gap where once I spent every spare minute coaching soccer. Now I'm operational and having experienced the reality of being there when someone needs help, that response doesn't seem to explain it properly anymore.  This led me to believe that there was something else driving me to do what I do every time a call-out comes, and the natural reactions and emotions that are triggered along with it.  I wondered if I was the only one who did not know what this need or reason was. Well, a few months later I find I was not the only one, but I might have been the only one admitting to wondering why.
I guess when you're out in the middle of the night, in-between completing one search area and being assigned the next one, the cold, the dark and the tiredness leave us a little exposed, and the hard shell of a Search Tech can sometimes soften and we reach out for a little comfort, or some form of affirmation of our thoughts and beliefs.  What follows when these conversations start can lead to some of the most enlightening and unexpected moments for all involved.  As I thought most people realise and acknowledge why they joined the team, but trying to explain why they do what they do now, what really drives them to respond to call-out's was not something they had even thought about.
It's true, everyone has a story, even if they don't think they do, or more commonly if you don't think they could have. In some cases these stories, some recent, some personal, some going right back to childhood were the driving force behind us doing what we do.  For some these chats were the first time the reasons had been considered, realised, or understood.  It became obvious to me that the original reason for joining was different to their reason for doing what they do now they are operational.
There is some commonality in the reasons given as to why we joined the team.  Most talk about wanting something else, needing a challenge, a way to give back to their community, some needing an escape from work, for some it's the outdoors that attracts them, some needing to get head space, for others it's been a direct result of being personally affected, or being helped by a Search and Rescue team in the past.  There seems to be less commonality when it comes to what drives us to respond to the calls in the way we do, in fact that seems to be a much more deep-set reason, and as unique as each and everyone of us.
By the nature of our call-out's they don't follow any calendar, or schedule, they come through at any time of the day or night, in the wind or rain, on a Sunday or Bank Holiday.  The next time you see one of the Search and Rescue teams going out on a call, just take a couple of moments to remember that each of those volunteers has a story, a reason for being there and doing what they do.  They don't all talk about it, I am sure some are not even aware, and some are in denial, but as long this incredible bunch of volunteers come together to reunite a vulnerable person with their family, you can be sure they do it for all the right reasons. They are part of the Lowland Rescue family, they are Search Techs.
As a Search Tech I know why I joined, and I now know why I do what I do every time a call goes out, and that understanding satisfies something in me that no paid role ever could. "In finding you, I found me" thank you.
Bucks Search and Rescue Tech